How Our Pups Are
Raised / Puppy Kennel
All of our puppies here at "Labradoodle Country" are born in my home, specifically in my bedroom. It is very important to be able to assure them they are safe and healthy at such a young age.
When they turn 2–3 weeks old, they are moved to our indoor/outdoor puppy kennels or play yards.
In our puppy kennels, each mama and her litter of babies have a 3.5-foot by 4-foot inside area. This size has proven to be big enough to keep the litter safe and healthy but NOT so big that puppies are willing to go potty inside.
Each indoor area has a doggy door that goes to a 25-foot-by-25-foot outdoor play yard.
Each pup learns quickly to follow Mama to the farthest point of the play yard to go potty. This makes for faster potty training for the new puppy families and it also prevents puppies from playing in the potty area, thus keeping them cleaner and healthier. Not to mention it makes my job of "POOP CONTROL" so much easier, smile!
The first couple of weeks the pups are in our puppy kennel area, and we install "Pig Rails". They are rails that will prevent a puppy from being trapped and smothered between the wall and Mom.
Our indoor kennel areas all have tiles floor and are air conditioned, so to prevent pups from getting chilled on the cool tile, we now recycle the boxes our dog food comes in from Chewy.com.
Over the years, we have tried many different materials for pups to sleep on to keep them cozy, warm, safe, clean, and dry. So far using the cardboard boxes has been an excellent solution, after we use them for the puppy floor area, we then recycle them by using them for weed block or compost for the garden, a definite WIN-WIN!
1. We quit using towels, blankets, or pads (even the ones that velcro down) because there is a HUGE risk of some pups getting tangled up in them and moms unknowingly sitting on them, causing unnecessary puppy loss.
2. We also quit using shredded paper or chips because it is messy and the pups always find their way through to the bottom of the tile, which defeats the purpose.
Our puppy kennel is on 16 acres. My daughter and grandkids live on one end and I on the other. So the puppies get plenty of socialization from birth until the go-home day. They get used to the sounds of nature, other dogs, puppies, cats, loud pressure washer and blower, as well as my not so quite active family and country life!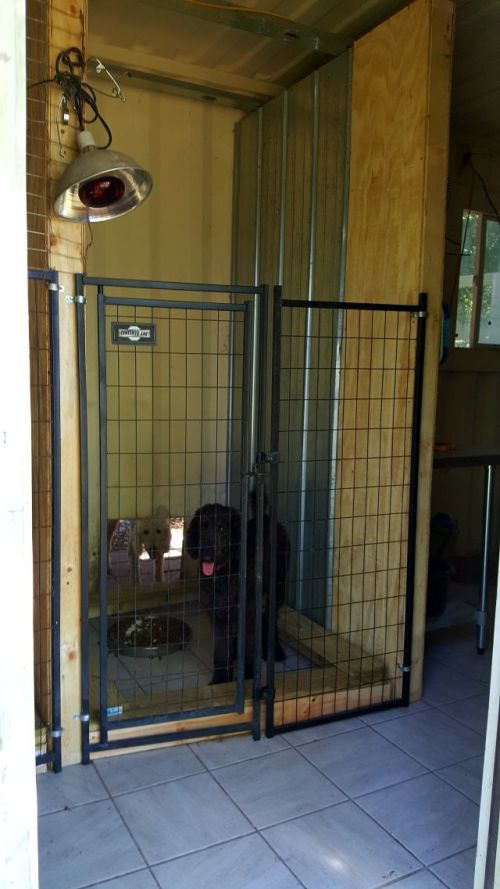 Inside view of puppy area with pig rail and doggy door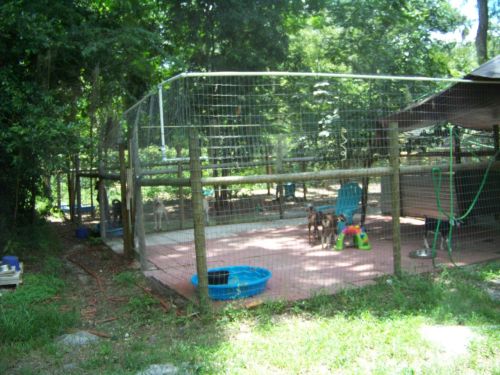 Puppy Play yard (25ft X 25ft)
Also known as the baby goat play yard while we work on a new fence area for our baby goats, smile. All 6 of our puppy play yards have a chair for Mom to get on when she wants a break from feeding and also a baby pool for pups to have fun and stay cool! Yes Labradoodles LOVE LOVE LOVE the water, smile!

Front of puppy kennel and Older pup Play yard